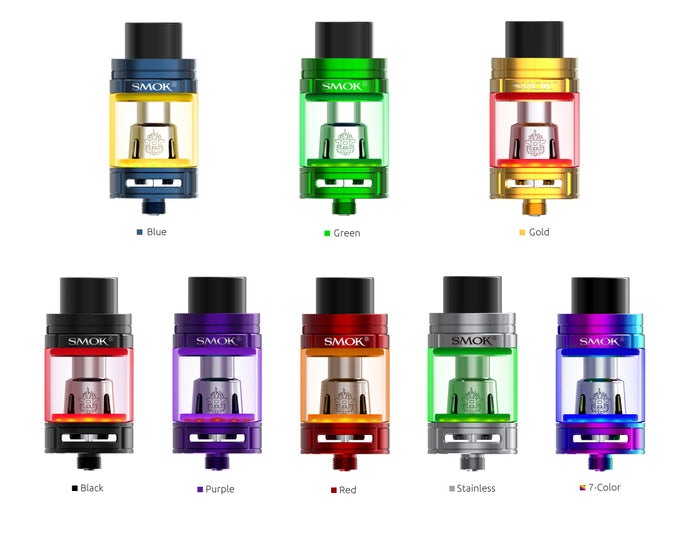 The SMOK TFV8 Big Baby Light Edition tank is an advanced version of TFV8 Big Baby , just as the name implies, this new version has LED lights at the base of the tank.
When you fire the device to vape, the LED will light up and change its color along with the color of sealing ring. 
Besides, it can perfectly match with V8 Baby-X4, V8 Baby-T6, V8 Baby RBA, V8 Baby-Q2 and V8 Baby-T8 core. 
With bright light, hyper engines and large e-juice capacity, this baby gonna surprise you !
SMOK TFV8 Big Baby Beast Tank Features:

Enlarged Edition of the Baby Beast

24.5mm Diameter

5mL Juice Capacity

Superior Stainless Steel Construction

High-Grade Glass Reinforcement

Convenient Top-Fill Design with Hinge Lock

Dual Adjustable Airflow Control at Base

Black Delrin Ultra-Wide Drip Tip

Patented Baby Turbo Engines Coil Structure

0.4ohm V8 Baby-Q2 Dual Coil - rated for 30-80W | recommended 55-65W

0.15ohm V8 Baby-X4 Quad Coil - rated for 30-70W | recommended 45-60W

0.15ohm V8 Baby-T8 Octuple Coil - rated for 50-100W | recommended 60-80W

510 Connection

Available in Stainless Steel, Black, Purple, Rainbow
SMOK Big Baby Light Edition Includes:

1 SMOK TFV8 Big Baby Tank - Light Edition

1 0.4ohm V8 Baby-Q2 Dual Coil

1 0.15ohm V8 Baby-X4 Quad Coil

1 0.15ohm V8 Baby-T8 Octuple Coil

6 Pairs of Colorful O-Rings

1 Replacement Glass Tube

1 510 Drip Tip Adapter

Spare Parts

Instruction Manual
Note: There is always an inherent risk when using any rechargeable batteries at anytime and under any circumstances. We are not held responsible for any damage for any modification of the batteries, chargers, devices and other products that we carry in any form or shape, this is including pack making.

Recently viewed
You can control fully on this carousel from store admin as describe in above section