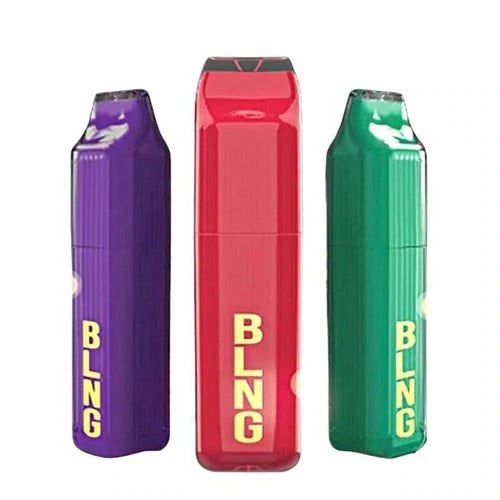 BLNG Disposable Vape Flavor Review
Mint Drip
Nestling itself within the moisture molecules that coat your mouth, this tasty blend will surely become a favorite by offering the refreshing taste of a sweet and cool mint flavor. It is a dazzling vape that will surely turn into one of your all-time favorites.
Lemon Drizzle
Sharing the most savory experience, this classic blend of lemon drizzle flavor is your next all-day vape. It recreates the taste of a lemon drizzle flavor, consisting of freshly squeezed lemon juice and confectioners' sugar turned into a tasty glaze.
Blue Razz
As one of the industry's most favored flavors, this is definitely an all-day vape to look forward to. It offers you just the right mixture of tart blueberries and bold blue raspberries, leaving you with a taste you're certain to fall in love with.
Peach Dream
Find yourself entangled in a delicious dream of flavor that you aren't going to want to wake from. It consists of loads of peach flavor, boasting delicious particles of the sweet and juicy peach taste you've become familiar with.
Fuji Nectarine
This deliciously crafted complex blend of a vape is everything you've been hoping for in a vape juice flavor. It brings you an exciting mixture of fuji apples perfectly infused with sugar-filled nectarines, giving you an exciting taste for every puff that you take.
Mango Mochi
Giving way to a traditional Japanese flavor, which consists of a mango-infused Japanese rice cake, you'll discover your next favorite vape juice blend. It's made by combining sticky rice flavor with an exciting mix of juicy mangoes.
Lush Ice
As one of the industry's most favored tastes, this is surely one that you cannot get enough of. It blends together a mouthwatering watermelon flavor, which pairs perfectly with a hefty dose of bone-chilling menthol flavor, leaving you refreshed.
Mamba
Ready yourself for an intensely sweet vape that brings together a super satisfying complex blend of flavors. With a sweet and citrusy taste using strawberries and dragon fruit, this one will turn into one of your most favored flavors of all time.
Puff Count: 3300 Puffs
Milliliter: 9ML
Nicotine Strength: 50mg
Nicotine Type: Salt Nicotine
Recently viewed
You can control fully on this carousel from store admin as describe in above section