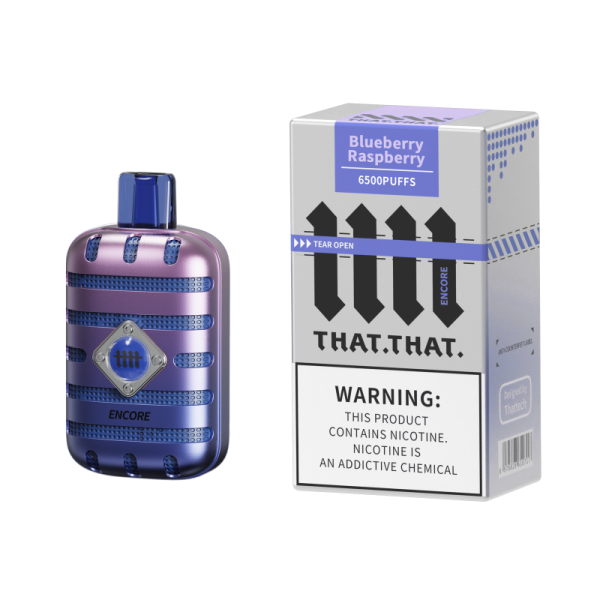 ThatThat Encore Disposable 6500 Puffs 12ml features unique microphone shape, quite recognizable among many popular disposable products, pre-filled with 12ml electronic juice, nic. 5%, which can reach 6500 puffs continuously. With built-in rechargeable 500 mAh battery, you can use the Type-C interface to charge when the power is exhausted.
ThatThat Encore Disposable 6500 Puffs 12ml has pure and amazing e-cigarette flavors, which surpasses any popular brand at present. More importantly, the unique vent valve design makes it better sealed, greatly reducing the risk of leakage, and combining the speedy ignitionis with explosive power, it ensures that you can get a smooth and extreme e-cigarette experience. The shorter airway and mesh coil delivers a stronger taste and long lasting flavor.
All-round safety protection measures, including over-charging protection, short-circuit protection and high voltage input protection, as well as low-noise design bring you a pleasant vaping journey.
-ThatThat Encore Disposable 6500 Puffs 12ml Features
Unique Portable Design

Mesh Coil
That That Leakageproof
Lower Noise
Various Selected Flavors
Up To 6500 Puffs
500 Mah Battery
1.2ohm Resistance
12ml e-Liquid Volume
5% Nic
Type-C Charging

-ThatThat Encore Disposable 6500 Puffs 12ml Product Includes
1 x ThatThat Encore Disposable 6500 Puffs 12ml

Recently viewed
You can control fully on this carousel from store admin as describe in above section