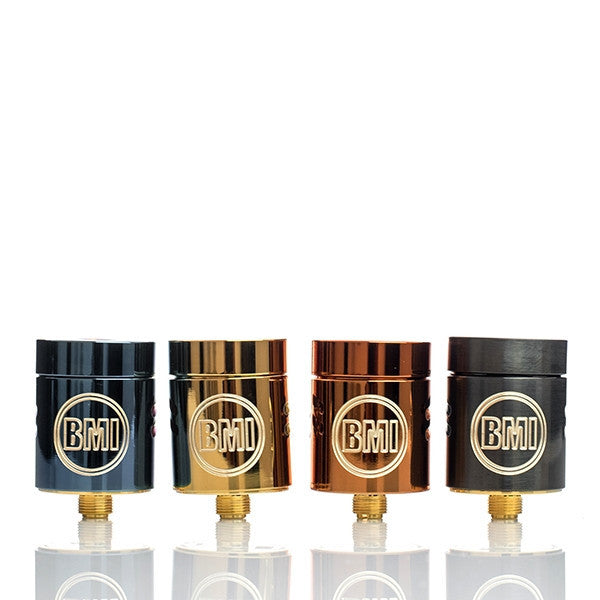 AFFORDABLE DOES

NOT

MEAN CHEAP!
In true BMI fashion, when designing Goldie we focused on using Premium Materials, the internals, build quality, machining process, something that is HEAVY DUTY and something that would take a lot of abuse. Honestly, there is nothing truly innovative about our design and there is no "engineered" airflow. Instead we went a different route and decided to simplify things.
BACK 2 BASICS.
Goldie is an RDA that was made to be an everyday "beater" and just plain HIT HARD. The AFC (Airflow Control System) is simple but extremely effective and Goldie was designed for Cloud Chasers and Flavor Chasers in mind. With its HEAVY DUTY DESIGN, just the Build Deck or Base alone is heavier than most RDA's out there today and the overall weight and feel of the complete atty is INSANE.
THE ENGRAVING, MATERIALS AND DESIGN.
You may have noticed that the engraving is GOLD. The entire atty is made of Brass then color coated over (secret). That's why the engraving looks Gold, it's actually the Brass that is shining through. The Base or Build Deck is also Brass and Completely 24k Gold Plated for MAXIMUM CONDUCTIVITY. The Center Post is RECTANGULAR and goes ALL THE WAY DOWN TO THE BASE which reduces most spinning when the top screws are being tightened.
With all the options out there for RDA's today we felt that designing a "Back 2 Basics" RDA was the way to go to simplify things and we are hoping you will agree.
KEY SPECS:
22mm Diameter

Complete 24k Gold Plated Deck and Posts for Maximum Conductivity
Made of Brass and Color Treated/Coated (secret)
6 Finish Options - Sterling Stainless, Rocket Blue, Bling Gold, Electric Purple, Static Orange, Royal Rose Gold
4 Pieces Total (Deck, Drip Shield, Chuff Cap, Optional Top Cap to Accommodate different Drip Tips)
DEEP Laser Etched Logo that is Gold in color because of the Brass Shining Through the Color Coat
DEEP Juice Well to Avoid Leakage
2.7mm Post Holes
VERY HEAVY OVERALL WEIGHT
Simple but EXTREMELY effective AFC System (4 Airflow Grooves)
4 Post Hole Configuration with Philips Screw Heads
Square Center Posts that goes all the way down to the Base to reduce spinning
Heavy Duty Feel
Extra O Rings and Screws Included
Warning: Never use a short or flat 510 connection on any hybrid or hybrid style device. If unsure whether this pertains to your particular set-up, DO NOT assemble and use. Always use proper precautions and handling.

Advanced User Item. Use at Your Own Risk!
Recently viewed
You can control fully on this carousel from store admin as describe in above section