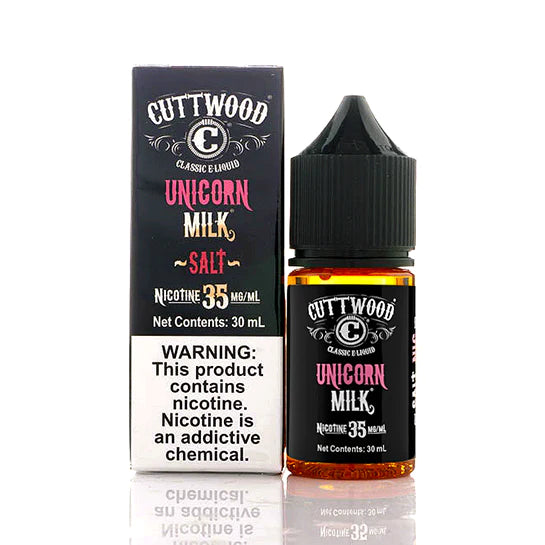 Unicorn Milk Salt E-Juice by Cuttwood

Among the immense range of e-liquid companies around today, only a select few have reached the notoriety and sheer popularity that Cuttwood has. Inasmuch as every one of their marvelous flavors are truly exceptional, Unicorn Milk Salt is incontestably their shining star. Meticulously crafted by Cuttwood's award-winning team of artisans, this sensational e-juice is nothing less than liquid heaven.
Unicorn Milk Salt E-Juice by Cuttwood starts with a selection of mountain-fresh strawberries, which is then carefully blended with a combination of four mouthwatering creams. The result is one of the most delectable flavors you have ever experienced. Rich, creamy, and flawlessly sweet, Unicorn Milk Salt is absolutely perfect for all day vaping. The instant you take your first hit, you will understand why Unicorn Milk Salt is Cuttwood's prized jewel.
WARNING: DO NOT USE NICOTINE SALT E-JUICES WITH SUB-OHM COILS OR REBUILDABLE ATOMIZERS. THESE MUST BE USED WITH HIGH-RESISTANCE, LOW-OUTPUT DEVICES.


CAUTION: VERY HIGH NICOTINE.  Using nicotine salt liquids with a high-output devices, such as sub-ohm tanks and coils, can result in nicotine overdose and poisoning. ONLY USE WITH LOW-OUTPUT DEVICES.
Unicorn Milk E-Juice Specifications:
PG: 50%
VG: 50%
Available Nicotine Strengths: 35mg,50mg
Available Sizes: 30ml
Flavor Category: Fruit, Dessert
Primary Flavors: Juicy Strawberry, Fresh Cream
Steep Time: Pre-Steeped
Manufactured In: USA
NOTE: Must be Used with High-Resistance Coils
Recently viewed
You can control fully on this carousel from store admin as describe in above section