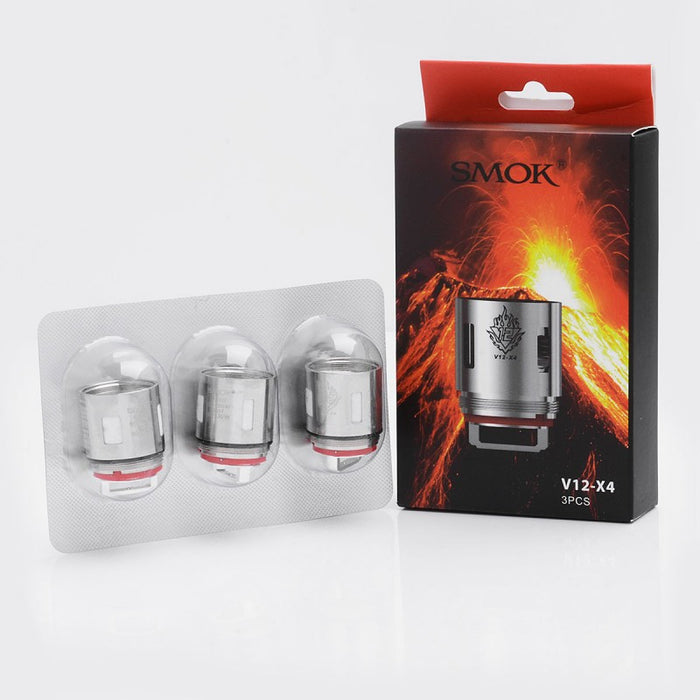 Details
The SMOK TFV12 Turbo Engines Replacement Coils are unmatched performance atomizer cores introduced with the supreme TFV12 Cloud Beast King Tank. Designed for high-powered configurations, it offers undisputed vapor production potential for a memorable vaping experience.
It is offered in a variety of different sub-ohm coils: V12-T12, V12-T6, V12-X4, and V12-Q4. The TFV12 V12-T12 is the flagship atomizer technology, featuring a 0.12ohm within a Duodinary/Twelve coil cylinder to provide unsurpassed amount of vapor capability, capable of firing up to a staggering 350W. The TFV12 V12-X4 is a 0.15ohm quadruple coil design with powerful clouds, capable of being fired up to 220W for a deep and rich cloud experience. The TFV12 V12-Q4 is a 0.15 quadruple coil synonymous with tempered cloud potential while retaining superior flavor, with an optimal range of 90 to 160W
For building enthusiasts, SMOKTech introduces a dynamic V12-RBA-T with pre-installed clapton coils. It features a fresh-look in exotic builds, implementing a post-less deck with 6 terminal slots to create triple coil configurations to match the sophisticated power of the TFV12.
Please select the type from the drop down menu. Listed price is for ONE V12-RBA-T Head, price will adjust according to selection.
SMOK TFV12 Replacement Coils Features:

Performance Enhanced Coil Structure
V12-T12 Duodenary/Twelve Coil Design

0.15ohm rated for 60-350W, recommended 130-200W
V12-T6 Sextuple Coil Design
0.16ohm rated for 90-320W, recommended 120-180W
V12-X4 Quadruple Coil Design

0.15ohm rated for 60-220W, recommended 100-170W
V12-Q4 Quadruple Coil Design

0.15ohm rated for 60-190W, recommended 90-160W
V12 RBA Rebuildable Head
Two-Post, Dual Terminal Design

Dual Coil Configurations
V12 RBA-T Rebuildable Head

Postless, Six Terminals Design

0.15ohm Triple Coil Configurations
Recently viewed
You can control fully on this carousel from store admin as describe in above section